"When a passion, a strong incentive and a search for something better meets knowledge, innovation and ambition, fantastic things are created"
Mustcare Pro is based outside Båstad, Sweden. Here we also have our stables where we professionally train horses and compete in show jumping up to international level. It's fair to say that horses are our lives and we have been active equestrians since early age.
The thought behind Mustcare Pro and our products
The idea of producing feed supplements is the result of our own search for high quality products that supports general well-being, prevent of degradation through exercise or age, to maintain the high-performing horse or rehabilitate the injured horse. Our starting point came with the rehabilitation of one of our own horses, Pop Non Stop, which today, after a serious injury, is back in the show jumping arena and climbing the classes. You can read more about Pop here.
What we strive to feed our own horses are natural, organic products free from chemicals, sugar, perfumes and artificial flavors. We want generous amounts of active substances, high bio-availability through endogenous substances alongside herbs grown ecologically on non-toxic soil. What we want, we are very pleased to now be able to offer others.
Our product development and range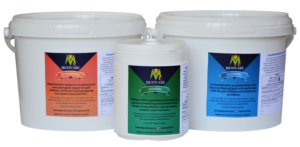 Our product range is under development and extended product by product. We spend a lot of time researching and considering our products.Each product has a basic idea where organic herbs and endogenous substances are combined to achieve the desired effect as efficiently as possible.In our web shop you find information about each of our products, what it contains and what each individual ingredient contributes towards.
In addition to keeping the products natural, we want them to maintain the highest quality, be based on knowledge and content that has a proven effect. The factory at which we manufacture is experienced and has its own lab, it is important for us to continuously analyze our content to secure that we are keeping our promise.
The environment is of utmost importance to us
Mustcare Pro is pervaded by a strong environmental thinking and we are actively working to reduce our environmental impact. Our packaging is recyclable and we hope for your help with this. We reduce the number of transports as far as possible and focus on organic, ecological, ingredients. Shortly, we will launch larger product packages, which will contribute to both less packaging and fewer transports.
We have chosen DHL as our main freight company. DHL is working to reduce their environmental impact through their GoGreen plan, the goal is to cut their carbon dioxide emissions down by 50% by 2025 compared to 2007 and ultimately run a completely emissions-free operation by 2050.
At the moment we are collaborating with 4 Oceans that are cleaning the world's oceans and we look forward to developing more partnerships and projects in favor of animals and nature.